A diverse and inclusive workforce has improved our work.
Diversity and inclusion provide different outlooks and ideas that are essential to the challenging work we do. Diverse world views, experiences, and perspectives change how we approach tough questions and how we bring new insight to existing problems.
Simply put, diversity helps us be stronger and more agile.
This framework is a guide for all employees at CSE. It sets our ambition as an organization that deliberately supports equity, diversity, and inclusion.
Affinity groups
These groups are grassroots, employee efforts to bring together colleagues with similar concerns, issues, and interests. These groups include: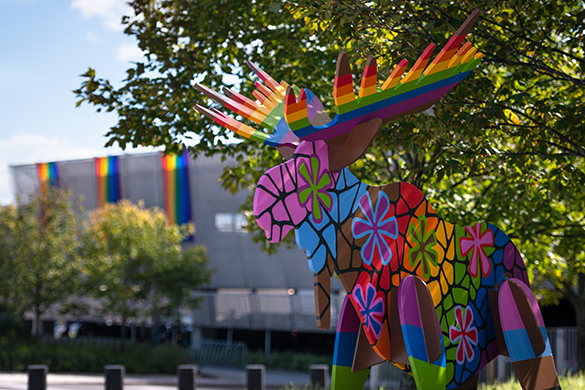 Disabilities – supporting persons with disabilities
EmbRACE – supporting employees from Indigenous and racialized communities
Neurodiversity
The Pride Network – supporting equality based on sexual orientation, gender identity and gender expression
Women in Cyber and Intelligence
Commemorations
Diversity is what makes CSE strong, so we make time to embrace our differences through annual employee-led commemorations honouring:
International Holocaust Remembrance Day
Black History Month
International Women's Day
International Transgender Day of Visibility
National Autism Awareness Day
Day of Pink
Asian Heritage Month
International Day Against Homophobia, Transphobia, Biphobia
National Accessibility Week
Pride Month
National Indigenous History Month
National Indigenous Peoples Day
Canadian Multiculturalism Day
International Day for Persons with Disabilities
Linguistic duality
Canada's two official languages, English and French, are fundamental elements of our public service.
At CSE, we aim to create an inclusive culture that respects the language rights of our employees and of Canadian citizens.
Our managers demonstrate leadership by using both official languages.
All new employees and students are invited to information sessions which include an introduction to CSE's Official Languages programs.
We offer staff ongoing opportunities to improve their second language skills through full-time, part-time and online training.
We also offer special second-language learning events, translation tools and mentorship opportunities that complement our formal training programs.
We continuously promote our Official Languages programs and engage employees in the languages of their choice on our internal communications channels.

Discover CSE's impactful mission

Join our team and help keep Canadians safe

Read how we are held accountable to Canadians